The Lenovo Mirage Solo is a collaboration between Lenovo and Google, and it's the only WorldSense-powered headset on the market since HTC canceled plans for a Daydream device last year. It uses the same interface as Google's phone-powered Daydream View mobile headset; supports the existing 350-app Daydream catalog; and uses the same small plastic remote, which — unlike the headset — has a basic internal motion sensor instead of full tracking. Daydream uses the standard Google Play Store, so you can buy and install Mirage Solo apps from your desktop, or sign in to a Wi-Fi network and download them directly, the way you would on any Android device.
Unlike the Daydream View, the Mirage Solo doesn't require a smartphone. It has a built-in 5.5-inch screen with a 2560 x 1440 resolution (1280 x 1440 per eye) and a Snapdragon 835 processor, with 64GB of built-in storage that's expandable via microSD. That means it has the same screen resolution as Oculus' new Go headset, but a more powerful processor. Lenovo advertises two and a half hours of continuous use; I actually squeezed over three hours of use out of a single charge, playing a mix of games and YouTube videos.
Where the Oculus Go only tracks head rotation, the Mirage Solo has two front-facing cameras that enable WorldSense tracking, peering visibly through the headset's front panel like big, round eyes. WorldSense is the Mirage Solo's big draw, and it works well — within very strict bounds. Google and Lenovo don't say how big a space WorldSense can track, but with the Mirage Solo, you're artificially limited to one square meter. If you go outside it, everything pauses until you move back in place or reorient the headset.
So it's hard to judge WorldSense's full power from the Mirage Solo. I never experienced drift or other tracking problems during normal use, unless I completely darkened the room or covered the cameras. WorldSense might perform differently in a large, bare "warehouse-scale" environment, however, when the camera doesn't have lots of furniture edges to track. It might also perform differently if you're not just shifting around one central point — which is all the current system lets you do.
The Mirage Solo's tracking is a cool incidental perk because virtual worlds feel more natural when you can lean and duck. Apps have to be specifically optimized for WorldSense motion, but over 70 of them already support it, including standout titles like rhythm shooter Rez Infinite and the satirical narrative game Virtual Virtual Reality.
These apps' WorldSense elements are too limited to be very exciting, though. Some games use motion-based mechanics, like a snowboarding game that has you crouch under branches. But since you're otherwise just pointing, turning, and flicking the simple Daydream remote, it never feels like you're really using your body. Compared to experiences with a larger movement space or fully tracked hand controllers, like Vive and Rift sports games or Google's own Tilt Brush VR painting app, Daydream motion mechanics feel superfluous or even annoying, especially since it's easy to accidentally move too far and pause everything.
Virtual reality video, including YouTube's VR app, is a big draw for Daydream. But few VR videos support positional tracking, so there's no benefit from WorldSense there. You also don't need the Mirage Solo to use the new Lenovo Mirage Camera, an interesting little two-lens point-and-shoot device that syncs 180-degree pictures and video with your phone.
Google's Daydream ecosystem is much smaller than Oculus' app catalog, which is already pretty small. Both platforms have myriad repetitive mini-games, and Daydream doesn't have many well-executed and ambitious projects to balance them out. A new Daydream adventure game based on the Blade Runner franchise, for instance, has a fun premise but slapdash writing and gameplay.
Meanwhile, WorldSense tracking comes with literally heavy trade-offs. The Mirage Solo weighs 645 grams, the same as Samsung's bulky Odyssey headset, which features inside-out tracking but is tethered to a computer. (For comparison, it's over 170 grams more than the Oculus Go.) The weight is tolerable when it's well-fitted, but the fitting isn't immediately intuitive: you have to cinch the Mirage Solo onto your head with a plastic ring, while also using a small button to adjust its angle based on your head size.
The Mirage Solo feels built more for developers or professionals than casual users, a theory that's backed up by statements from Clay Bavor, Google's head of immersive computing. "What we've seen is real interest from early adopters and VR developers, creators, who get the power of an untethered standalone positionally tracked headset," Bavor tells The Verge. "We're seeing that, zooming in on that." Google will wait to see how the Mirage Solo performs, then decide whether to work with more partners for similar standalone headsets.
The headset's shortcomings aren't such a big deal outside consumer entertainment. Many designers and engineers use existing VR headsets or "CAVE" environments to examine 3D models, but don't need full virtual bodies, so the Mirage Solo offers a highly self-contained alternative. Developers will apparently be able to turn the boundary system off, letting them test WorldSense's true limits. If you're interested in building for fully tracked standalone VR, the Mirage Solo is an easy way to test the waters before more consumer-friendly headsets launch.
And WorldSense is part of Google's much larger "immersive computing" initiative, which encompasses augmented and virtual reality. "The way we see the Mirage Solo and our larger standalone efforts is one of the steps of this arc, up this ramp of better and better versions of the technology," says Bavor. Ultimately, WorldSense isn't just a replacement for traditional tracking the way it is in the Mirage Solo. It's a system that could combine with other computer vision and location-tracking technology to help really blend physical and virtual environments.
So with the Mirage Solo, Google and Lenovo really seem to be playing the long game. They've put Google's Daydream platform, which was designed to get everybody into VR, into a device that mostly makes sense for early adopters and industrial users. They're releasing one of the first self-contained headsets with potentially groundbreaking motion-tracking technology, but severely hobbling its capabilities. This is an experiment that might pay off in the years to come, if developers build more ambitious WorldSense apps and Google comes up with a better controller. But as far as buying the headset goes, most people should probably just wait for the payoff.
There's no doubting that Lenovo's Mirage Solo headset is revolutionary for the mobile VR market in a few ways.
It provides a very good Google Daydream experience without the need for an expensive flagship smartphone (it has the innards of a modern Android smartphone powering it). You can experience virtual reality the way it's meant to be experienced, with six-degrees of freedom (6DoF) thanks to its inside-out tracking sensors that let you move about the environment. It's surprisingly comfortable, too, taking a few notes from PlayStation VR to make long VR sessions something that I'd actually consider doing from time to time.
The tenet of mobile VR has always been its low price, giving consumers a decent option that punches well below the quality found on PC-bound headsets like Oculus Rift and HTC Vive Pro, but at that, also well below their price. So, it might come as a bit of sticker shock to see that the Mirage Solo is going for $399 (about £293, AU$530).
But if VR is on your horizon, or if you're just looking for a captivating option that doesn't require a pricey smartphone or a computer to use it, Lenovo's headset is the best option out there. There are enough technical advancements crammed into this headset to justify the price, but Google's platform needs to grow considerably to make this a truly tempting purchase for the mainstream audience.
Setup
There's usually a lot to write when it comes to setting up other virtual reality headsets. Even the Oculus Go, which is cable-free, still relies on myriad steps for setting it up, requiring a smartphone to get you started. But the Lenovo Mirage Solo is as easy and breezy as it should be. Take note, everyone.
You take the headset from the box, charge it up with the included USB-C cable and charger, then boot it up with controller in-hand. After a few initiation steps (all performed while using the headset) you're set free in Daydream OS, Google's dedicated VR operating system.
Operating the Mirage Solo is, in many ways, exactly like what we saw on the Google Daydream headset in that it's user-friendly as can be, but there are far more appreciated features here.
We'll dig into the physical differences in the next section, but focusing on the software experience, it's akin to a modern gaming console in that when you hit the home button during a game, you'll be sent to a screen that lets you adjust settings and switch between other recently launched apps or games, if you please. Visually, we can see its Android roots showing, as what's seen here looks like the pull-down menu on, say, a Google Pixel 2. Don't forget, there's basically a phone's worth of hardware inside and, apparently, the software, too.
With all of that setup under your belt, finding a Daydream app or game is as simple as booting the Google Play Store located on the home page. Google does a pretty decent job of surfacing noteworthy content for perusal, though it's not all free to enjoy and it's not all worthwhile. We've seen apps upwards of $14.99, but most of the good stuff is within the $10 or less range.
Design
The Mirage Solo is almost like the lovechild of the PSVR headset and the Google Daydream View, combining their sheer simplicity in design with impressive functionality that enhances the VR experience during marathon sessions.
Given that all of the hardware is stuffed into the headset itself, the comfort yielded here is remarkable, as Lenovo has opted to front-load the weight of the Mirage Solo on the top of your forehead. A twisting knob on its back brings the headset around your skull, making it fully adjustable. If you're struggling to find the perfect fit or to keep the outside light from seeping in, even the display housing can move back and forth without distorting the image.
On front of the headset, there are two cameras used to enable WorldSense, Google's technology that gives this headset 6DOF. Like the Vive, this headset makes a map of your environment and alerts you when you're about to step outside of a safe zone. Except unlike the Vive, you're not bound to your VR-ready room. You can take this literally anywhere, which is as cool and nerdy as it sounds. It's somewhat obvious to say, but if you have a small play space, your movement will be more limited, but still enhanced over regular Daydream or Samsung Gear VR experiences. Even in larger play spaces, Daydream OS seems to limit most experiences with a boundary of about six feet in either direction.
In terms of visual fidelity, there's not much to complain about here. The 110-degree field of view provided by its 5.5-inch 2,560 x 1,440 IPS LCD display is generous, though we immediately noticed garrish look that this type of display can be known for. All said, it's plenty bright, the color presentation is spot-on, and the impressive pixel density and all-important refresh rate (locked at 75Hz) work together to make this screen look quite nice, though you won't find deep blacks for a truly cinematic experience.
Filling up the internal storage of the Mirage Solo may take some time, as it comes with 64GB built into the headset. We're happy to see a microSD slot included, which can take it up to 256GB. The Lenovo Mirage Camera can shoot in the new VR 180 format, which this headset can view simply by hot-swapping their microSD card.
Lastly, let's focus on the 4,000mAh internal battery. Lenovo claims that it can provide upwards to 2.5 hours of continuous use. There likely aren't many people out there who are going to take it from full to empty in one go, so right off the bat, it's nice that this can last for multiple short bursts of entertainment. After a steady half hour playing some games, we brought it down to 76%. Another day passed without totally powering it down, and it slipped down to about 60%. It's been made clear during testing that this headset can hit its advertised marks.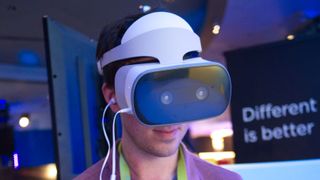 Moving around the device, one side plays host to a USB-C charging port and a microSD slot that's handy for loading VR180 videos captured by the Lenovo Mirage Camera, or providing extra storage for games and apps. Around to the other end, you have your power button, volume controls and a 3.5mm headphone jack.
All in all, the Mirage Solo is fairly compact, but due to its plastic construct, it's tough to fit into a bag for travel. If you don't want to stow it in a grocery bag or tote, you're only other option really is to carry it or wear it, and that will get you some strange looks. But hey, these are strange times, so I've embraced it by simply holding it in my hands a few times walking to and from the work office. It's not ideal.
Lenovo has also included Google's Daydream remote, a necessary accessory for interaction within games and apps. From what we can tell, it's the same hardware here operating over Bluetooth, but there seems to be some more functionality here, including capturing screens or videos with shortcuts. If you hold the home and volume up buttons simultaneously, you'll begin recording video to the storage. Home and volume down takes a snapshot. From there, you can view them within the storage section of the settings menu. Oddly, these shortcuts weren't working for us during the review, but we've asked Google to see what's going on.
Daydream, and the benefits of standalone VR
Before we dive into the headset, let's talk about the Daydream VR platform briefly. Daydream is a virtual reality platform from Google, and it is based on Android. It first debuted with Google's own Daydream View headset, which largely relied on a Google Pixel smartphone to work. Google then improved the Daydream View headset in 2017, adding a better heat management system, but the company also announced it would be working with third-party manufacturers to build standalone VR headsets.
The downside of a phone-based VR headset is that you need to use a phone, thus eating up the device's precious battery life. You also need to install VR-specific apps and games — cluttering your phone up — and you're limited to a short period of playtime because smartphones overheat quickly.
Standalone Daydream VR headsets aim to fix these problems. They have processor, display, storage, wireless connectivity, and more, all built in. There's no need to use or connect to a phone, which means you can use the headsets for a longer period of time without worrying about battery drain or overheating. The Mirage Solo is also the first VR headset to feature Google's WorldSense position-tracking technology, which means the headset knows where your head is in relation to your physical space, thanks to two cameras facing outward, and that's what allows for six degrees of freedom.
There's nothing quite like spring in New York. It's warm, but not too warm. Protests and open-air markets are spinning up at Union Square. The popsicle vendor next to the office is slinging treats while the heady aroma of kebabs from the food truck around the corner draws a crowd of lunchtime regulars. At long last, people are luxuriating outside, and New York feels alive again. Naturally, because the city was brimming with energy, I had no choice but to go outside and goof around with a VR headset.
You see, Lenovo's Mirage Solo is part of a new breed of self-contained VR headsets. You don't need to connect it to a powerful PC or stick a phone inside of it. You just turn it on, pick up Google's classic Daydream controller and dive right in. While headsets like the Oculus Go are accessible because they're fairly cheap, Lenovo and Google were a little more ambitious. They needed to take the existing Daydream concept and make it more capable. By cooking up a way to help this all-in-one headset understand your movement in the real world and translate it into virtual ones, I'd argue they succeeded.
Verdict
There is no shortage of virtual reality headsets to choose from. The questions worth asking yourself are really, how much money do you have and what do you want to do with a VR headset? You can obviously spend far less on a headset than $399 and get a pretty good experience, but you currently can't do better than Lenovo's Mirage Solo.
This headset's launch couldn't be more peculiarly timed, as the Oculus Go has just released. While similar in their top-level approach to cutting the cord and ditching the phone, Lenovo's option is really in a league of its own by comparison, both in features and price.
The Mirage Solo is double to cost of the Facebook's new headset, but easily features enough advances to warrant the difference, that is if they matter to you. Inclusions like 6DoF via WorldSense, a hearty boost in specs like the Snapdragon 835 and a microSD slot elevate it above the Go and every other headset out there – even what tethered headsets can handle.
At best, it will make you so glad that you didn't drop $1,000 for a high-end PC and VR headset, as you can have some pretty immersive experiences here. None of what we've seen comes close to the graphical fidelity seen in the Oculus Rift or the HTC Vive Pro, but WorldSense has the potential of thrusting the quality of mainstream VR into new territory.
Beyond this groundbreaking feature making its debut here, we're pleased with the specs, performance and design of the Mirage Solo.